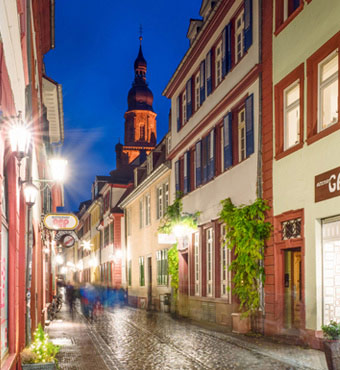 Sightseeing
Old bridge:
The famous historic old bridge ("Alte Brücke") is only a few meters away. It links the old town to the banks of the river "Neckar" at the eastern end of the Neuenheim district.
Heidelberg Castle:
The ancient castle ("Heidelberger Schloss") is Heidelbergs well known landmark that can be reached by a 10 minutes walk. You can also go up the hill by the funicular railway ("Heidelberger Bergbahn").
Philosophers' Walk:
The street "Philosophenweg" goes upside along the river "Neckar" and offers a great view onto the beautiful ancient city district "Altstadt".
Shopping and more:
Europes longest pedestrian area ("Fußgängerzone") directly starts at the hotel. You'll find a lot of shops, restautrants and cafés nearby.
Neuburg Abbey:
The famous cloister "Stift Neuburg" which still is home of monks is only a few minutes car drive away.
Congress center Heidelberg:
The "Kongresshaus Stadthalle" for conventions and congresses can be reached in less than 5 minutes walking.

As a matter of course: If you need assistance we help you to plan your own journey. For further information please do not hesitate to ask our reception.